Isn't it time someone came out and told it like it was?

Former part-time, moonlighting virtual assistant breaks her silence …
…and offers you $125 in gift certificates in the process!
Then she makes a full confession about how she has cracked the code for starting and building a successful virtual assistant practice.
Hint:  The system is so simple that it's almost embarrassing.
No previous experience necessary.
100% Satisfaction Guaranteed.
No more excuses for not being a virtual assistant (VA)!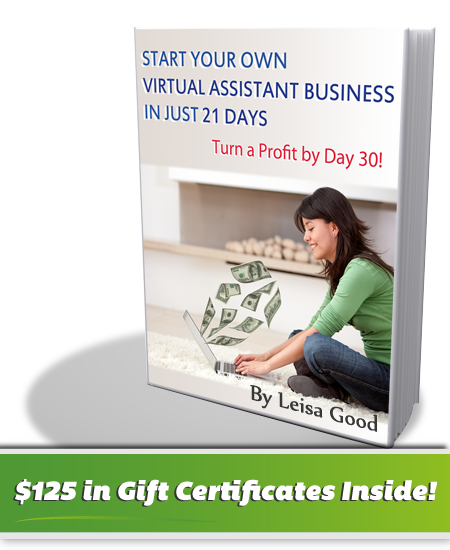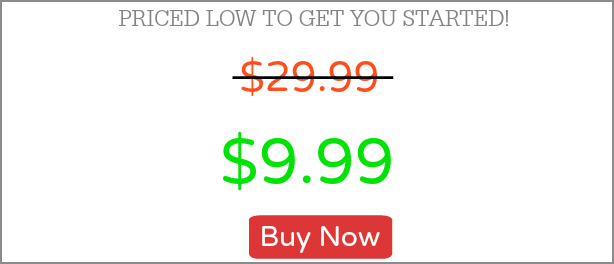 ---
Dear Aspiring VA:
Aren't you tired of sorting through books, e-books, teleseminars, teleclasses, articles, and tweets all giving you information on how to start a virtual assistant practice?   Most likely this information has left you with more confusion, less time, and little or no money.
Stop wasting precious time and money sorting through all of this information.  Why?  Because you don't need information.  You need instruction.  You don't need inspiration.  You need application.
"Start Your Own Virtual Assistant Business in Just 21 Days!" eBook to the rescue!
Visualize: Knowing all you need to know and then making a profit by Day 30!
This eBook spells out the cold hard facts for getting started like how to:
Become a VA in a month.

  Even though you just learned what it was.

Jump in and start promoting your services.

  Even if your only service is typing.

Get your VA certification.

  Even if you don't have the money for it.

Start marketing your services.

  Even if you don't have a website.

Know what to name your business.

  Even if all the good names are taken.

Learn how to finance your business. 

 Even if the bank says "no".

Discover who your clients will be.

  Even if you don't have a clue.

Find clients on these four websites.

  Even if you've never considered applying.

Understand the one thing you must do to be a VA.

  Even if you think it's silly.
All this, plus…
Homework assignments designed to propel you into your VA practice

Practical steps to lay out the foundation of your VA practice

$125 worth of gift certificates for awesome services from awesome vendors
Why spend all of your time and hard-earned money, trying to learn and implement all of this from scratch?  The more time you waste, the less money you'll make.
So why not just "Start Your Own Virtual Assistant Business in Just 21 Days!"
Successfully yours,
Leisa Good
P.S. Keep reading below and check out the awesome testimonials and savings …

---
Check Out the Savings Inside!
Not only does

"Start Your Own Virtual Assistant Business in Just 21 Days"

provide you with all the information you need to start your own virtual assistant business but it also gives you

$125 in gift certificates

to start making money right away! 

More than 12 times the price of this eBook!

  Just look below.
---
➜
VA MASTER AND AUTHOR

Leisa Good is the owner, VA, and "Diva of Done"™ at GBS Virtual Office Solutions. She opened her virtual assistant practice part-time in 2006 when it was then named Gemstone Business Solutions. In 2008 her VA practice became full-time, and in 2011 the name was changed to its current name. Recently, she has added VA coaching to her services. She lives in the beautiful Shenandoah Valley and within walking distance of the famous Shenandoah River.  She also likes to blog.
I almost hesitated to put my name on the outside of this e-book.  Why?  Because it's more of a

"top secret"

or

"insider's report"

than an eBook.  Most eBooks just give information. 

This eBook gives instructions

.  What to do now.  What to do later.
Quoting from the Introduction, Paragraph 6:
 "I have tried to make this eBook informative, light on humor, non-intimidating, and most importantly—practical.  Why?  Because I want to see you up and running and earning a profit as soon as possible.  Why again?  Because one of the biggest mistakes small businesses of any kind make is to take too long to get up and running and earning a profit.  When too much time is spent figuring things out or perfecting things, the money runs out.  Cash flow is a must for the small business.  So, don't let this happen to you."
---
Others Agree! See What They Are Saying – 
Wendy Baldwin
 "Whether you start your business with a shoestring budget or a padded bank account, Leisa shows you how to start off financially and business savvy.  Following her expert advice is one of the greatest gifts that you can give yourself.  She is considered one of the top "Go To" people in the work-at-home arena.  As a small business owner myself, Leisa is always one of the first people I turn to for advice."
 "Leisa has a special way of making the material surprisingly easy to understand and to implement.  I have come to appreciate her gift of writing and of virtual assistance.  She has certainly given you the tools to succeed within the pages of this eBook.  My advice?  Dive into this e-book with a pen and paper to grasp as much as you can.  Take the steps she has outlined in this e-book to be successful.  One-third of them would make you successful.  You don't have to start your business alone or without guidance.  Put your worries aside and download this eBook."
---

Disclaimer: The purpose of this eBook is to educate and entertain.  The author and/or publisher do not guarantee that anyone following these techniques, suggestions, tips, ideas or strategies will become successful.  The author and/or publisher shall have neither liability nor responsibility to anyone with respect to any loss or damage caused or alleged to be caused, directly or indirectly by the information contained in this book.  Results will vary.  All PDF sales are final.  Amazon reserves its own rights.